The following are my UNSOLICITED endorsements of my favorite butterfly, lupus-friendly and "Put on Purple products. (I receive no compensation or financial benefit from my endorsement of the following items.)
My absolute favorites
Light as a feather Sketcher's Go Walk shoes — after my recent purchase I own 4 pairs! The only problem is the Sketcher's stores and online store were almost immediately out of stock in the purple shoes shown in the commercial video. The clerk told me that the biggest question asked at their recent company conference was, "where are the purple Go Walks?" and explaining further, "everyone asks for them, and it ends up they only made a limited run of them." I do have an almost purple pink/grey heather pair that come off looking like purple, so I am happy. These are the most comfortable shoe my arthritic foot has ever worn, and are now at the top of my favorite products list.
Stained Glass Butterfly Umbrella
I saw this butterfly umbrella at the Smithsonian Museum online store, and absolutely love it!  I already own a gorgeous umbrella with a colorful print of a Monet painting of the Gardens at Giverny , but this one is high up on my wish list.  Check it out @ www.smithsonianstore.com
Aurora Colors Butterfly Wings Keepsake Box
By 2000 Vangie Pullins, for sale online at Aurora Studios Design Studio and Stained Glass Store.   I love the vibrant colors and mixture of blues and purples, and the four "gems" imbedded in the top.   www.auroracolors.com
Butterfly Stained Glass Coloring Book
By artist Ed Sibbett, Jr.  These look fun for the crafty at heart.  Printed on special translucent paper, these ready-to-color designs will produce vivid stained glass pictures. Mount them on windows to catch the light and compose exciting decorative combinations, or use them in craft projects that call for splashes of dazzling color and elegant, one-of-a-kind butterflies.  For sale @ store.doverpublications.com
Stained Glass Butterfly Accent Lamp
Sold by Signals.  I think it is interesting that buying from this vendor helps support public television.  View more information @ www.signals.com.
Stained Glass Butterfly Lamp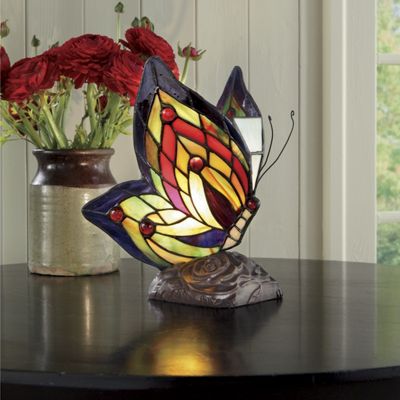 From Seventh Avenue.  This yellow butterfly would look right at home in my yellow and purple themed guest room.  Butterflies and dragonflies all over the room would welcome this addition.  www.seventhavenue.com
Stained Glass Butterflies Suncatchers
By Joan Baker Designs.  There are several beautiful butterfly designs and sizes available.  These are gorgeous! www.julesenchantinggifts.com
Orange Stained Glass Butterfly Fabric
These stained glass butterflies from the Light Fantastic quilt fabric collection by Fabric Freedom are colorful and artsy. The larger butterflies have a wingspan of about 5 inches.  For sale online by the yard @ www.creativequiltkits.com
Butterfly Garden Stained Glass Tray and Holder
By Amia for sale online at Atop the Table.  atopthetable.com